About Sheryl
BIOGRAPHY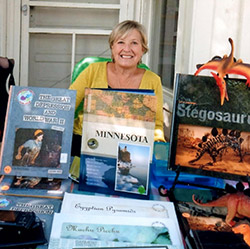 Sheryl with some of the
many books she's authored
I grew up in the small southern Minnesota town of Redwood Falls, which is surrounded by cornfields and scenic river bluffs. In the summers, I rode my bike several blocks to the big granite stone library, filled up my bike basket with books, and rode happily home. Then I would try to escape from household chores and hide from my three younger sisters, so I could read all afternoon. I attended Gustavus Adolphus College and the University of Minnesota and taught elementary school for many years before becoming a full-time writer. I now live right on the border of Minnesota and Canada in International Falls with my husband Richard. I am the author of 22 non-fiction books, the subjects of which range from Machu Pichu and the Egyptian Pyramids to books on several states, including Minnnesota, three dinosaur books, The Great Depression, and World Ward II. You can see my complete book list here.
In October 2013, I celebrated the release of my first picture book, The Best Part of a Sauna from Raven Publications.
---
FAQ

1. Where do you get your ideas?
Everywhere! Most ideas for picture books pop into my head when I notice something funny or unusual. I try to keep a small notebook handy for my instant "great ideas."

2. Do you like fiction or non-fiction better?
Both! I love learning new things while digging up quirky, fascinating facts for a non-fiction book. When I wrote my Dinosaur books, I knew a LOT less than most 8 years olds!  But I learned through research. I love the imaginary world of fiction because I can make everything up!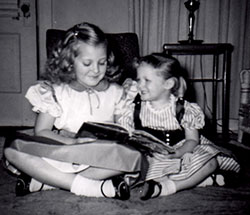 3.  What were your favorite books as a child?
I loved the Betsy, Tacy, and Tib books, The Borrowers, Nancy Drew, and the Little House on the Prairie series. But my two favorites were Black Beauty and Little Women. Black Beauty made me cry every time I read it, but I still kept pulling it out of my bookcase. Little Women had a special meaning because I also grew up in a family with four daughters and no brothers. Of course, I identified with Jo, the writer.

4. When did you first become a writer?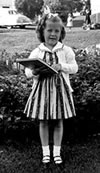 My first memory of being a writer was when I was in third grade. My teacher picked me to write a letter to the mayor! I knew I had good cursive writing skills, but I hoped that the teacher chose me because I could write, too.  Soon after, my friend and I started a horse club.  We'd grab carrots from home, walk out into a field past our neighborhood, and climb atop a boulder. Then we'd wait for a horse to walk by, while we wrote poems about horses. A pony never trotted by (funny thing, huh?).  I became a real writer many years later.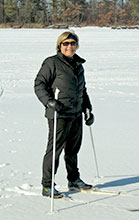 5. What do you do when you are not writing?
I live up north in the Minnesota woods so I better love being out in nature. I like to swim, water and snow ski, and take long saunas at our cabin on Rainy Lake. I am always reading a new novel (both modern and historical) and I love to travel. My favorite spot for a winter vacation is Akumal, Mexico, where the Caribbean waters are turquoise blue (my favorite color).

6. Where do you write?
I have a cozy writing studio in my home on the Rainy River. From my window I can look right into Canada. Sometimes I will see an eagle fly by or watch pelicans on the water. Since I live on the edge of a woods, I often have deer appear in my yard.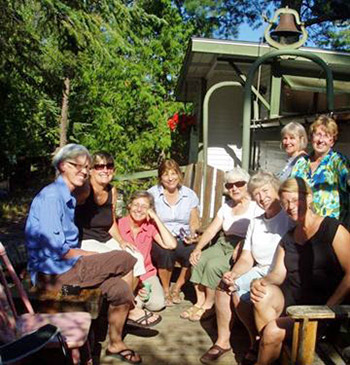 Ober Island author friends
7. Do you have any kids?
I have three grown-up kids named Erik, Britta, and Nissa. I am fortunate that they all live in Minnesota. I also have six amazing grandchildren: Emma, Elliott, twins Winnie and Vivian, Lucia, and Wendel. I dedicated my sauna book to them because they all love Rainy Lake.

8. If you weren't an author what would you be?
I was an elementary teacher for many years and I really liked that. It would be great to be a talented painter or an official "new idea thinker-upper!" I'm very good at daydreaming and doodling.

9. Of all the books you've written, which one is your favorite?
That's hard! A writer gets so attached to her books. They are like children. I guess I'd say my first book, Sugar. That small book took lots of revisions. When it was finally done, I got a great compliment from my dad who didn't usually say much. He said, "You wrote a book? Now THAT'S really something!" He died not long after, so his words are especially sweet.

10.  Are you working on other books now?
I am revising two picture books. One is about a Stegosaurus who has a dinner party for other dinosaurs.  Of course, disaster happens!  The other book is about a dog that follows her family when they go on vacation.  Mabel has lots of tropical doggie adventures.
Random things
about Sheryl:
I love chocolate and try to eat a bit every day.

Synchronized swimming was my sport in high school and college. I played Wendy in Peter Pan and had to jump in a pool dressed in a long nightgown. It was tough to peel down to my swimsuit underwater.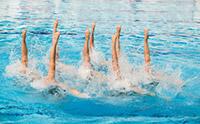 I took figure skating lessons as an adult.